1/3/2013
All our bags are packed,
We're ready to go,
We're leaving on transport tomorrow,
We're going to meet our families and to our homes.
So snuggle us and smile for us,
Give us cuddles and send us lots of love,
Hug us like you did the day we met.
Cause we're leaving on a transport,
Don't know when we'll meet again,
Till then just know how thankful we are.
Now the time has come for us to depart,
One more time, let us say you'll always be in our hearts,
Close your eyes and see us run and play,
Dream about the days to come,
When we will have loving families and lots of fun,
About the time, when our lives were saved. Thank you for giving us this day!
Now we're leaving on a transport….
Thank you to everyone that has made this possible! -Pixie, Bandit and Smokey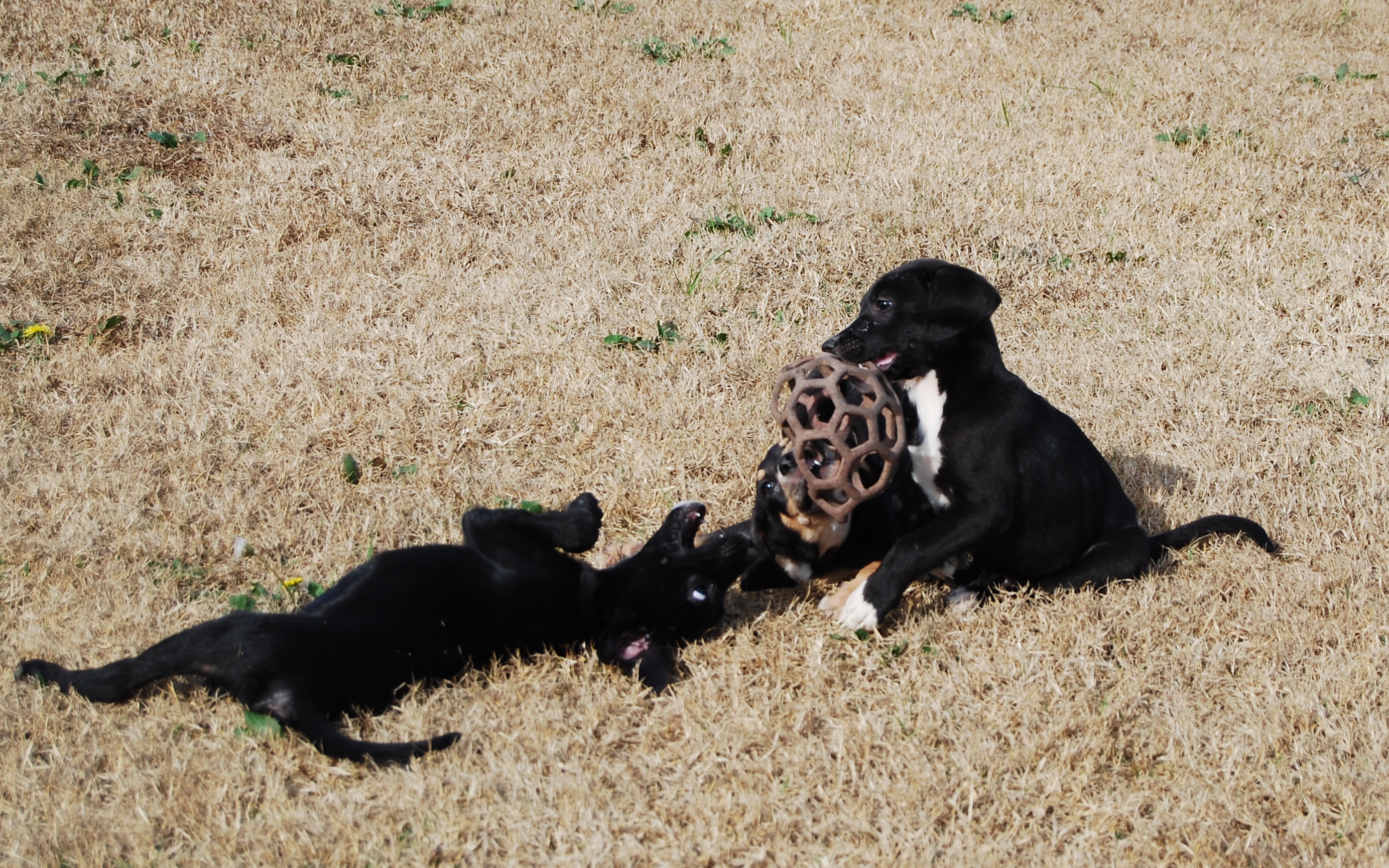 12/27/2012:
Barked little Smokey to the Bandit pup,
Do you hear what I hear (AGAIN)!
Ringing through the posts of Facebook land,
Do you hear what I hear
A family, A family, for you, Pixie and me
Little Bandit pup can you believe?! A family for you, Pixe and me!!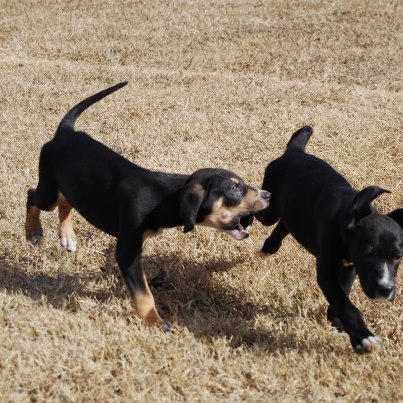 12/20/2012: Little grumpy puppy ruffs to you this morning. Why are we grumpy you ask? Well, yesterday we had a sneaking suspicion that there may be another reason we were opening Christmas stockings early and WE WERE RIGHT! Our foster families kept saying: "You guys and girly are taking a very big step tomorrow in helping to make sure there are no more homeless puppies in the very near future by getting spayed/neutered". All we heard was: "You guys and girly will be wearing a CONE for the next 1 million days and will not be able to get your head in a stocking with those on". Can you believe that? -Smokey, Bandit and Pixie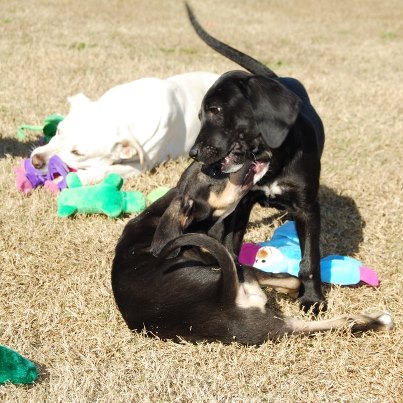 12/17/2012: Wednesday will make one (1) month that we left the shelter and made our way to Angel's Hope!! Can you believe that? We have been here one entire month. Boy oh boy what a month it has been! We have had some rough days, but many AWESOME days! We still have a few weeks here and a few more vet visits and then we will begin our journey to find our families. Thank you for helping us along the way!! To see many more adorable photos of us please visit our Facebook page.
12/10/2012: This week we are 11 weeks old!! We did not know that being 11 weeks old meant going to see the vet AGAIN!! We have good news and bad news. The good news is that we are growing and getting better and Pix's Xrays show that her lungs are healing. The bad news is that the we still have worms and another parasite- coccidia. We also have a little hair loss that we hope is not demodectic mange. We have probably had the coccidia for a while but the vet said it is a tiny, tiny parasite and hard to pick up on the microscope, so it's more get better and stronger medicine for us and keeping an eye on our fur. We are going to get better!! How do we know? We have everyone on this page supporting us and sending us healing energy! Ruff!!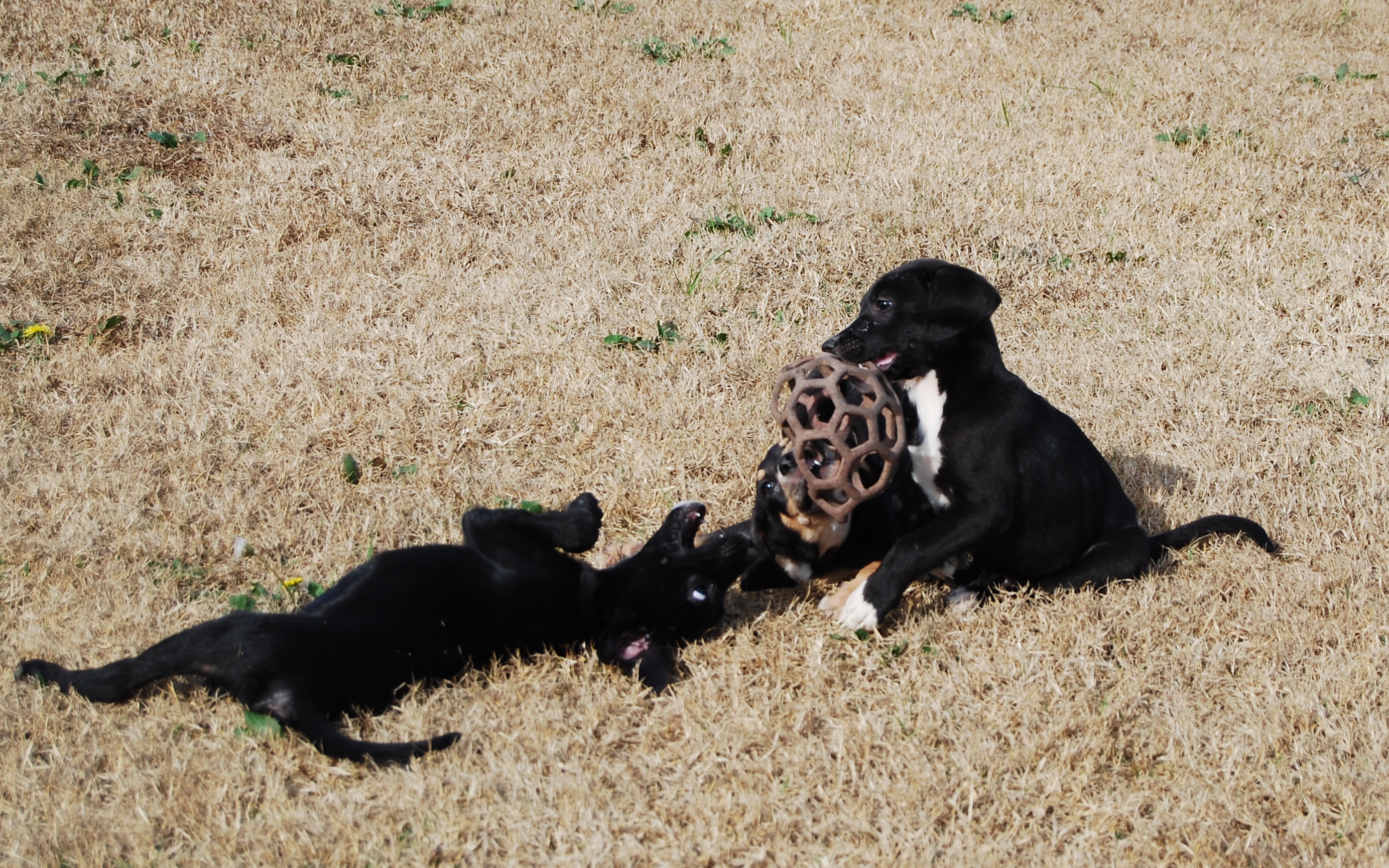 12/9/2012: Big excited puppy ruffs to you and howls!! It is time! The Happy Howlidays art gallery is open. We sure hope that you will visit our gallery! If you want to place a bid please put it in the Comments section of the painting that is your very, very favorite. Bids will be accepted until Sunday, December 16th at 9:00 PM eastern time. Thank you and big puppy kisses!
12/5/2012: Big puppy ruffs to you!! We are so excited to bark to you again! Our foster families had to type for us while we were sick, but we are back at the keyboard and we have exciting news. We have names!! Why did it take so long you may ask? Well our foster families wanted to let our personalities shine through to help determine the perfect name for us! We are very pleased to introduce ourselves from left to right. Pixie (cause I am little and cute), Smokey and the Bandit. We have the most awesome names!!
11/23/2012: Our sweet little girl came home today and is full of puppy energy! Her condition is much better but she still has a way to go before she makes a full recovery. Welcome home sweet girl!
11/22/2012
: We hope that everyone had a wonderful Thanksgiving!! The sweet little girl is doing much better this evening and may get to come home tomorrow afternoon. The brothers still have a cough and the sniffles but did play for the first time today

These sweet pups are giving it their all to get well so that they can start a new, wonderful life. Happy Thanksgiving!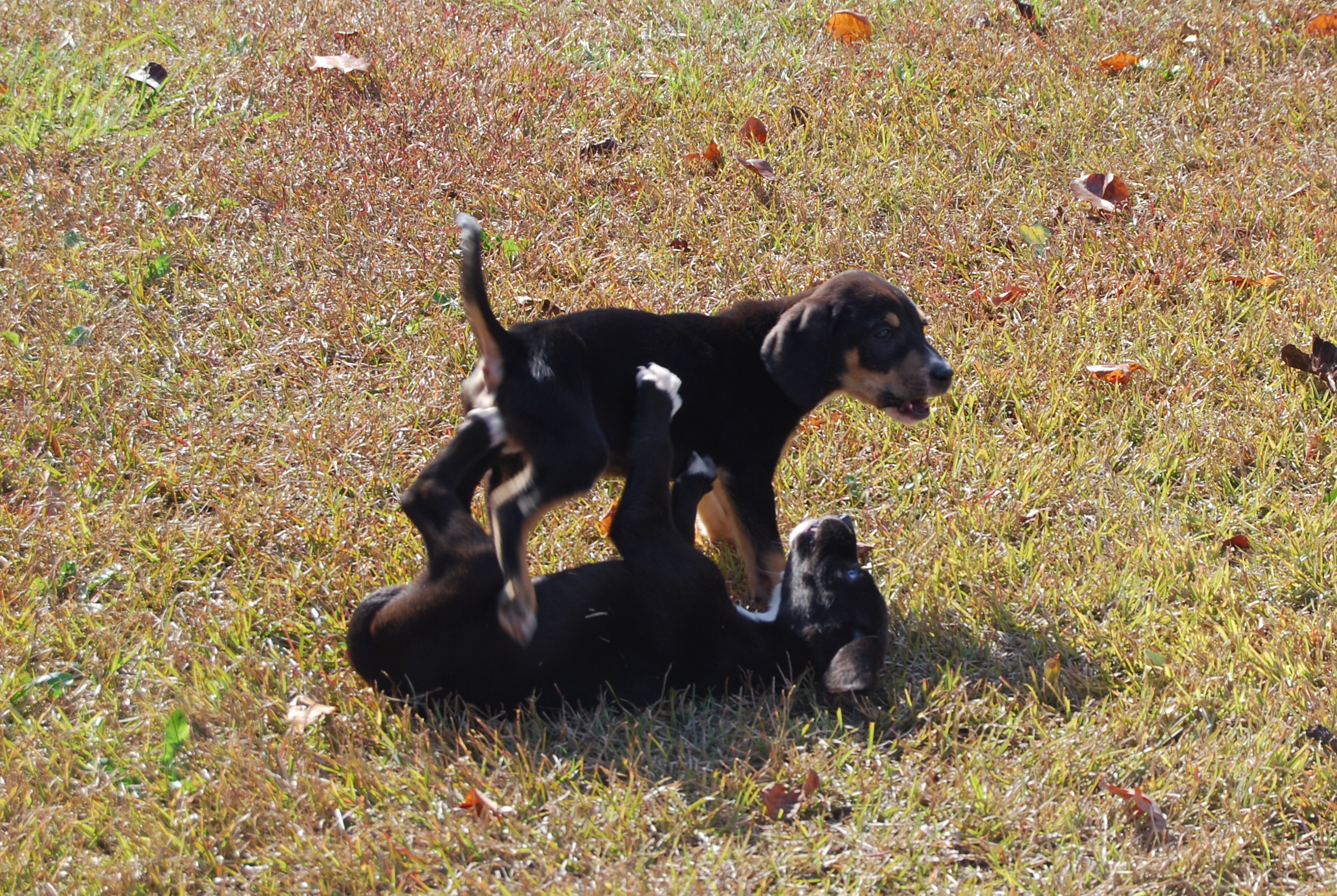 11/21/2012: Our sweet little girl has pneumonia but did improve throughout the day. They are treating her with IV antibiotics and her temperature is coming down. We are hopeful that she will be able to pull through and be home with us by Friday. The boys are also congested and were started on antibiotics. They are home with us and we are keeping a very close watch on them. These sweet pups have had a rough few weeks and their immune systems are so overwhelmed. They have required pretty extensive treatment during their first two vet visits and we are so grateful for all donations. They have a long way to go to get to their Happy Tail but with your support they can do it!
11/21/2012: Our little girl is fighting for her life today. She took a turn overnight and we took her and her brothers to the vet first thing this morning. She has a temp of 105 and some vomiting/coughing. The vets will do all they can to save her but she needs lots of love and good thoughts. Her brothers are home and starting on antibiotics. Please send them all healing energy.
11/20/2012
: All three puppies had a little spa treatment today – their very first bath! Is there anything cuter than a clean puppy wrapped in a towel? We don't think so!
————————————————————————————-
Ruff! Ruff! Howlo to you! We are so pleased to meet you. We are three adorable pups from a "pound" in West Virginia. Someone took us there when we were just 7 weeks old. Can you believe that? There were five of us, but sadly our siblings could not withstand the harsh environment and we lost them over the weekend. But we know they are running free and healthy at the Rainbow Bridge and watching over us.
We haven't had an easy start to life. We kept hearing people say things about how we were running out of time and needed to find a rescue or home very soon or that we might not make it. We didn't understand what this meant for us but it made us very worried and sad. Thank goodness a great rescue organization and their rescue partners stepped up to save us! On Monday morning 11/ 19/2012 we hopped in a car and took a trip south!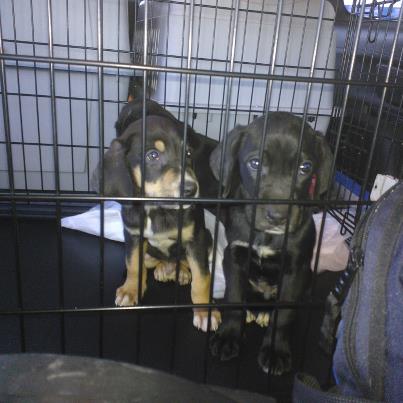 The stress of the shelter was very hard on our little bodies but we are fighting with all of the strength we have to get better. We had to the visit the vet on Monday for lots of tests as they thought we might have parvo and vaccinations and had to go back today as we began sniffling and coughing overnight and our sister had a very high temperature, 105. She will have to stay at the vet for the next few days and we ask that you pawlease send her lots of healing energy as she has pneumonia. We were tested again for parvo and still the test is negative. We are very happy about that as parvo is very rough on little pups.
We will be updating and sharing more about our journey on the Facebook page and website and hope that you will share our ups and downs and eventually a great, amazing life.
We are going to bed early tonight to try to give our bodies all of the rest that they need. We will bark to you later!
Three Adorable Pups
We will always remember our siblings that were not able to come with us. RIP Marley and AJ. Thank you for watching over us!