April Hurley is the pet parent of five awesome dogs — Lilly, Ceasar, Sampson, Ladybug, and Goose. Her involvement with animal rescue and advocacy has grown with each of her fur family members. From rescuing Lilly from a cage at a flea market, learning about how puppy mills and irresponsible breeding can harm companion animals with Sampson, and fostering and adopting a pit bull named Goose — each opportunity has provided invaluable lessons for April and deepened her desire to save the lives of shelter and homeless companion animals.
April has been involved in animal rescue and advocacy in a variety of ways including volunteering for animal rescue transports, fostering for rescue groups, and donating time and raising funds for animal welfare organizations.
She felt so strongly about animals that she switched her career direction to interact with pets and help animals full-time. She operated a pet sitting business, Lilly and Friends, LLC, for five years and enjoyed meeting many wonderful dogs and cats. April's business gave her opportunities to help animals in need through providing educational information to her clients, participating in the Hungry Bowl Pet Food Drive, and assisting clients with decisions regarding adoption, fostering, and pet rehoming needs.
The biggest stepping stone for April and her commitment to saving the lives of innocent pets came when she met Angel in 2011. Angel's struggle and determination gave April the spark that she needed to move forward with her dream of helping innocent pets and starting a nonprofit. Her hope is that through the efforts of Angel's Hope there will be a day in the future that all animals will have a happy and loving home.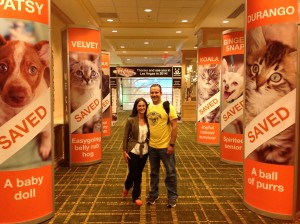 Bill Carter grew up in rural West Virginia where he was afforded countless opportunities to take in the beauty and peacefulness of animals in their natural environments. He learned many lessons from observing the animals' interactions with one another and with the humans that frequented the woods and mountains.
Bill served in the U.S. Military for nearly a decade. His travels in and outside of the Air Force provided a rich understanding of foreign culture and insight on the plight of companion animals in other countries.
He has also been active in animal rescue and advocacy as a volunteer for animal rescue transports and as a foster home for dogs in need.
Bill's experience with Angel was short, but her kind and gentle spirit provided lessons that he hopes to pass on to others through Angel's Hope.
As we embark on this journey in Angel's memory, we remember the unwavering hope and determination she shared with all that she met and we strive to do the same for all animals and people that we meet.
Thank you, Angel, for the inspiration.