Rescue and Foster Program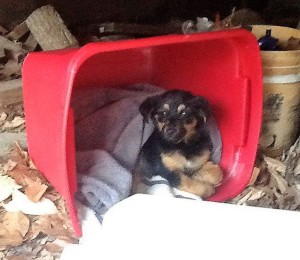 Do you remember the adorable face above? It's hard to forget the little pup in a box. Grace came to our Rescue & Foster Program in February after she'd been shot and paralyzed at just 3 months old.
The first few months for Grace were very tough as she fought for her life, not once but twice. She had an undeniable will to live and to find her place in the world.
She worked hard at every single underwater treadmill session. She looked for a hand to hold during electrostimulation. She enjoyed a Kong or Nylabone during her brace and range of motion therapy. She never gave up.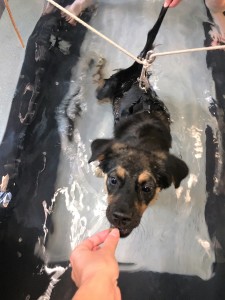 After working so hard, she was ready to set some big goals at the beginning of May. She wanted to get stronger and find her family. We created an inspiration board for her to keep her going on the tougher days. So many of our amazing friends sent in quotes and letters to cheer her on.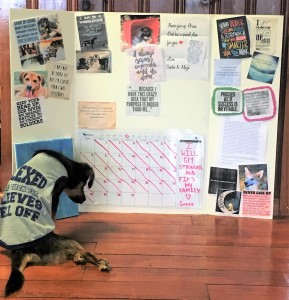 She patiently checked her calendar each day all the while doing her her therapy and going on big adventures.
She went to the park with her foster dad.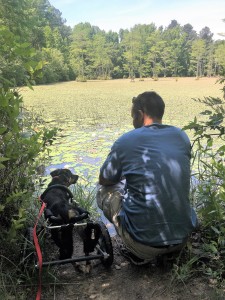 She went to a coffee spot and enjoyed a puppuccino.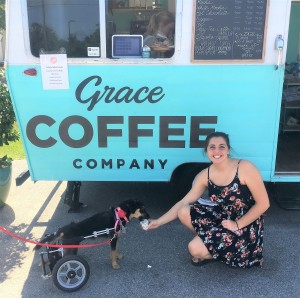 She enjoyed a munchkin for National Donut Day.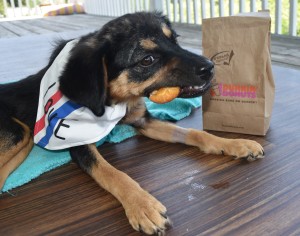 She got stronger. So strong that she flexed and the sleeves fell off of her shirt!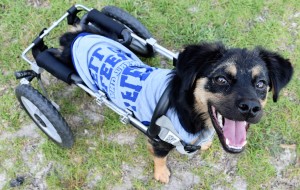 But she still didn't have her forever family.
If you've been following her story, you know that she doesn't give up! When the beginning of June rolled around, she was ready to work even harder. She continued her therapy and we continued sharing her story. Many great Facebook pages helped spread the word about Grace and her search for a family of her very own. She was being seen all around the world and we knew that soon Grace would have what she'd been working so hard to find, her family.
We didn't tell her right away as it was difficult for us to imagine letting this sweet soul go. Instead, we enjoyed a couple more weeks filling her days with fun.
She visited with friends and dear friends came to visit her.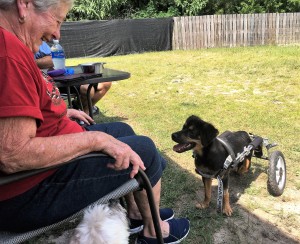 She painted.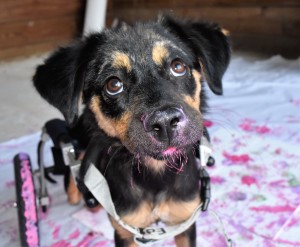 She saw her first rainbow.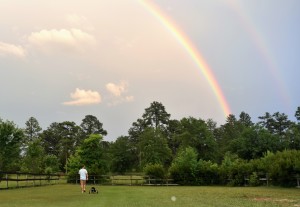 And she went to the beach.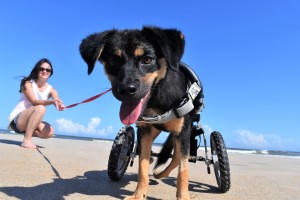 It was then time to share with her that she'd reached ALL of her goals. She had a family waiting to meet her and welcome her HOME.
One of her fur brothers even has a cart just like hers!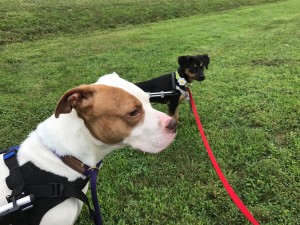 Getting her all packed up, including her inspiration board, and taking her to meet them and seeing that sweet smile as we left was a hard day. But we know Grace is in the best of hands and we learned that "There comes a point in your life when you realize your hardest times are your best times, too—you will see the rainbow of your life." -Roy Bennett. We certainly know that's true for Grace.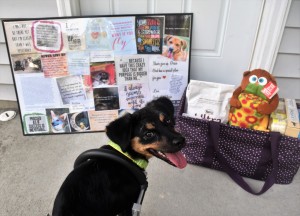 Thank you to all that shared Grace's journey, gave to help her get the medical care she needed, and encouraged her and us when the days were hard. You gave a pup that didn't have a chance a few months her Happy Tail!
To see more of adorable Grace, please visit her Facebook Album: Grace.
Spay/Neuter PROGRAM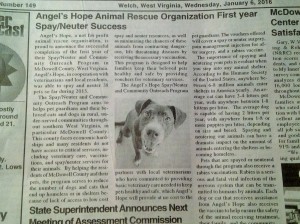 It's always been one of the top goals for Angel's Hope- to have a Spay/Neuter Program. There were times we thought it wouldn't happen. It took 4 years to get the program started.
Today, thanks to your support, over 170 pets have been altered and vaccinated for rabies through the Spay/Neuter Program! THANK YOU!
The families and pets helped are so grateful for the program. But it's not only their lives that are being changed. Every spay and neuter prevents another litter of dogs/cats that may end up in shelters or homeless. It also means more time for pets already in shelters and rescues to find their family. It improves the entire community!
Thank you for supporting this needed and wanted program!
200 HERE WE COME!
To learn more about how to get involved or if you know of someone that would like information on obtaining a voucher, please visit the Spay/Neuter Program page. To see more adorable pets that have been helped by your support, visit the Spay/Neuter Album. The picture above is an article about the program that made it to the front page of the local paper. You can see the full article here.