Thank you for another amazing year!
During this time of reflection and as we plan for the future, we want you to know without any doubt that YOU are what makes every transformation possible at Angel's Hope. YOU are changing the lives of families that need a helping hand to have their dogs and cats spayed/neutered. YOU are paving the road for a time (we hope very soon) in which there won't be any more homeless animals. There won't be another puppy shot like Grace. There won't be another Bashful and siblings found in a plastic bag on the side of the road. There won't be another Hope sitting alone at a shelter paralyzed and confused. That day is coming friends! And YOU are making it possible.
Take a look at the miracles you made possible in 2017 in the video below!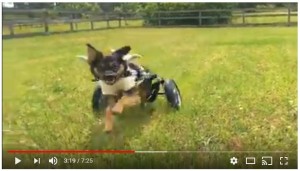 Thank you for making second chances possible and for being a part of the Angel's Hope family! We're excited to partner with you to save more lives in 2018!
Rescue and Foster Program

When we welcomed Grace to the Angel's Hope family in early 2017, we wondered if we were prepared to care for a dog that required such specialized care. The learning curve was huge and all we could do was take it day by day. And that's what we did until we knew what to do to help this sweet girl thrive.
If you shared Grace's journey, you know that she's now living an awesome life on a ranch with plenty of furry siblings. And that smile is always on her face!
Grace opened the door and our hearts to be able to help another special needs pup named Hope. Hope was injured at the end of September and her back was essentially broken in two places. Like Grace, she's paralyzed in her back legs.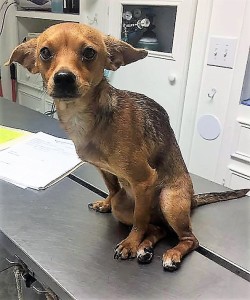 When she arrived in early October, she had to be on crate rest for six long weeks. She, of course, didn't even notice her injury and wanted to PLAY! We kept her entertained with as many toys and snuggles as possible until she could begin therapy, using her cart, and of course, playing! Below you can see her adorable face as she was learning to use her cart.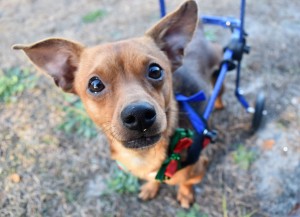 Hope doesn't let anything slow her down and she lives up to her name every day! We're excited to see what 2018 will hold for her and we're hopeful that a wonderful family will be ready to welcome her home soon.
We hope you'll share her journey and you can always see what she's up to when you visit our Facebook page.
Spay/Neuter PROGRAM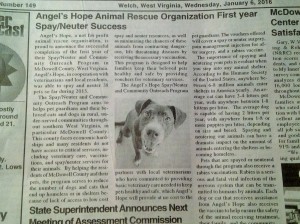 It's always been one of the top goals for Angel's Hope- to have a Spay/Neuter Program. There were times we thought it wouldn't happen. It took 4 years to get the program started.
Today, thanks to your support, over 190 pets have been altered and vaccinated for rabies through the Spay/Neuter Program! THANK YOU!
The families and pets helped are so grateful for the program. But it's not only their lives that are being changed. Every spay and neuter prevents another litter of dogs/cats that may end up in shelters or homeless. It also means more time for pets already in shelters and rescues to find their family. It improves the entire community!
Thank you for supporting this needed and wanted program!
200 HERE WE COME!
To learn more about how to get involved or if you know of someone that would like information on obtaining a voucher, please visit the Spay/Neuter Program page. To see more adorable pets that have been helped by your support, visit the Spay/Neuter Album. The picture above is an article about the program that made it to the front page of the local paper. You can see the full article here.