Full Tummies
and Thankful Hearts Supply Drive
Will you help keep the tummies of pups like Beatrice and her brothers full this holiday season?
Our annual Full Tummies and Thankful Hearts Supply Drive is in full swing and goes through November 30th, 2017.
Your support during the supply drive will not only help Beatrice and her brothers now, but will make a difference throughout 2018. Keeping our supply closet stocked and ready ensures that we can help more dogs the moment they need a helping paw.
You may drop off donations at:
1190 Old W Liberty Street
Sumter, SC 29150
803-773-2300
through November 30
th, 2017
or you can order right from our
Amazon Wishlist
all month long (and of course any other time!).
Every item dropped off or sent will help more pups become healthy, happy, and ready for their Happy Tail! Thank you for your support and for giving HOPE!
Rescue and Foster Program

When we welcomed Grace to the Angel's Hope family earlier this year, we wondered if we were prepared to care for a dog that required such specialized care. The learning curve was huge and all we could do was take it day by day. And that's what we did until we knew what to do to help this sweet girl thrive.
If you shared Grace's journey, you know that she's now living an awesome life on a ranch with plenty of furry siblings. And that smile is always on her face!
Grace opened the door and our hearts to be able to help another special needs pup named Hope. Hope was injured at the end of September and like Grace, she's paralyzed in her back legs. And like Grace, she's full of spunk!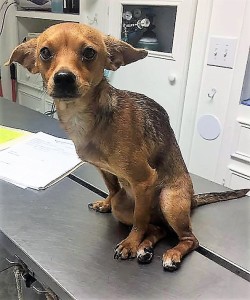 Since arriving in early-October, Hope has been on crate rest. Her back is essentially broken in two places. Because the exact date of the injury wasn't known and scar tissue may have already begun to form, it was recommended to not do surgery at this time, unless she becomes painful.
Hope isn't going to let her injury hold her back and she's already enjoying playtime in her playpen and of course, she dressed up for Halloween!
She was recently released from crate rest and can begin learning how to use her cart! Stay tuned to our Facebook page to see this sweet girl get up and rolling!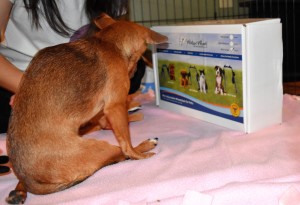 Hope isn't the only pup that made her shelter break in October, these six cuties did too!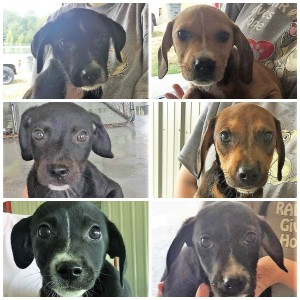 One sweet little girl and her brothers found themselves homeless at an overcrowded shelter, the same shelter Hope was at a few weeks earlier. After talking it over with Hope, she agreed that they could come to Angel's Hope and that she'd share her treats, if they didn't keep her up at night with their puppy antics!
We can't say they've kept up their end of the deal! Since their arrival, they've played and romped all day (and most of the night)! They enjoyed a little treat-or treat over the weekend and even learned how to sit!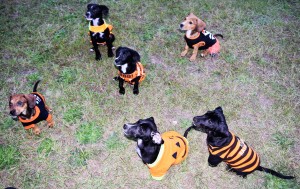 It's going to be busy and fun keeping up with Hope and the six new little ones. We hope you'll share their journey and you can always see what they're up to when you visit our Facebook page.
Thank you for giving them something to look forward to this holiday season and for making sure their days are filled with treats!
Spay/Neuter PROGRAM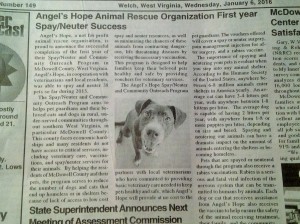 It's always been one of the top goals for Angel's Hope- to have a Spay/Neuter Program. There were times we thought it wouldn't happen. It took 4 years to get the program started.
Today, thanks to your support, over 190 pets have been altered and vaccinated for rabies through the Spay/Neuter Program! THANK YOU!
The families and pets helped are so grateful for the program. But it's not only their lives that are being changed. Every spay and neuter prevents another litter of dogs/cats that may end up in shelters or homeless. It also means more time for pets already in shelters and rescues to find their family. It improves the entire community!
Thank you for supporting this needed and wanted program!
200 HERE WE COME!
To learn more about how to get involved or if you know of someone that would like information on obtaining a voucher, please visit the Spay/Neuter Program page. To see more adorable pets that have been helped by your support, visit the Spay/Neuter Album. The picture above is an article about the program that made it to the front page of the local paper. You can see the full article here.