Rescue and Foster Program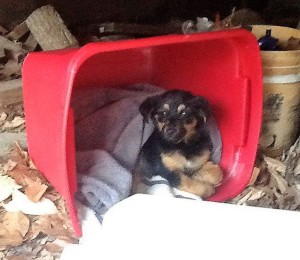 Thank you for giving Grace HOPE! Because of your ongoing support, Grace was able to begin therapy in April. Each week she receives a session of dry needling and two sessions of underwater treadmill and laser therapy. She also wears braces as a part of her at-home physical therapy program
At this point, we haven't seen a change in her ability to use her back legs, but we aren't giving up yet. Grace is a fighter and we know that she's giving it her all and we'll continue to be by her side every step of the way. You can see her during one of her underwater treadmill sessions here: https://youtu.be/ZRppiwpg8VE. Each week she becomes a little more comfortable with the treadmill and she loves the treats!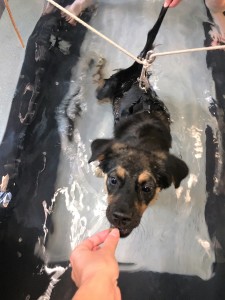 Of course, it isn't all work all of the time for Grace. She enjoys lots of playtime and loves to get outside and RUN! We think she's faster in her cart than she'd be without it! Take a look at her racing with her foster mom: https://youtu.be/mcfF1dGCIu8. Of course, she won!
This little girl is thriving and her personality comes out more and more each day. When she arrived, she was a shy and timid pup and now she's full of puppy antics and loves to be snuggled by her foster family. Her unbroken spirit and willingness to enjoy each day is an inspiration to all that she meets. And of course, she's trying to use her puppy cuteness to win over her foster siblings. Here she is trying to engage them in a game of chase: https://youtu.be/G9w2s_1_zt8!
We're accepting inquiries from potential adopters and would love to share more about Grace with anyone that may be interested in welcoming her home. You can learn more about her by visiting her Petfinder profile: https://www.petfinder.com/petdetail/37495982.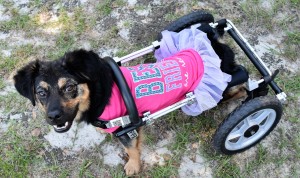 To see more of adorable Grace, please visit her Facebook Album: Grace. To learn more about the Angel's Hope Rescue and Foster Program please visit our website: Rescue and Foster Program.
Spay/Neuter PROGRAM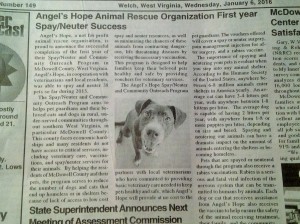 It's always been one of the top goals for Angel's Hope- to have a Spay/Neuter Program. There were times we thought it wouldn't happen. It took 4 years to get the program started.
Today, thanks to your support, over 150 pets have been altered and vaccinated for rabies through the Spay/Neuter Program! THANK YOU!
The families and pets helped are so grateful for the program. But it's not only their lives that are being changed. Every spay and neuter prevents another litter of dogs/cats that may end up in shelters or homeless. It also means more time for pets already in shelters and rescues to find their family. It improves the entire community!
Thank you for supporting this needed and wanted program!
200 HERE WE COME!
To learn more about how to get involved or if you know of someone that would like information on obtaining a voucher, please visit the Spay/Neuter Program page. To see more adorable pets that have been helped by your support, visit the Spay/Neuter Album. The picture above is an article about the program that made it to the front page of the local paper. You can see the full article here: Spay/Neuter Newspaper Article.
Thank You
To each and every person that is a part of the Angel's Hope family, Thank you for being a rescuer! In 2016, your generosity made it possible to change the lives of 89 dogs, cats, and their families!
31 pups were helped through the Rescue and Foster Program and 58 family pets were spayed/neutered (which brought the total for the Spay/Neuter Program to 99 in 2016!).
Every moment in this video is a testament to your kindness and determination to make a difference for pets in need. The smiles, the snuggles, the celebrations are all possible because of YOU!
Please take a look at the Angel's Hope Rescue Tails of 2016 video: https://youtu.be/b9azMUpJwWA
Thank you again for your support!