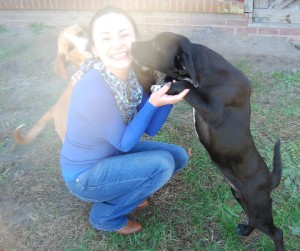 The Angel's Hope Rescue and Foster Program aims to save dogs from shelters and homelessness. We do not currently have a shelter or facility and each dog in the Rescue and Foster Program stays with a family in their home.
What does it take to get a foster dog ready for a new, wonderful life? Of course it takes lots of love, guidance, and patience. Our foster families help foster dogs become happy, confident dogs by building positive, trusting relationships with them. They interact with them each day as if they are a part of their family. Our foster dogs play with other family pets, practice basic cues and work on house-training skills, and enjoy healthy meals and treats. They have a warm, comfortable bed to sleep in and a safe environment to relax and unwind in.
Each Angel's Hope foster dog receives all needed medical care before leaving for their adoptive home or with our rescue partners. This entails medical exams, vaccinations, a heartworm test, intestinal parasite screenings, flea and heartworm prevention, spay/neuter procedures, microchips, health certificates, and treatment for any medical conditions that are found.
Once a foster dog has completed all medical treatment and is ready to start the next chapter of their life, we adopt them out to loving families or work with our awesome rescue partners that often already have wonderful homes waiting for them.