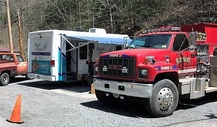 It's true that working together saves more lives! We were very excited to be a part of a vaccination clinic in an underserved community in April that provided vaccinations and other medical services to 180 pets!
We'd like to thank the Welch Volunteer Fire Department Station 2, Angels of Assisi, the wonderful volunteers that helped, and all that brought their pets to the event. 180 pets were seen during the event! It was a busy and fun filled day and we loved seeing all of the adorable pets and their families. Thanks again to all that made the event a success!
Help expand the Community Outreach Program! The Community Outreach Program is off to a great start, but we want to do more. In years past, coloring books with information on the importance of spaying/neutering family pets have been given out to children and pet food to families in need as we are able.
In 2017, we want to do more and we hope you'll join us! Help provide up to 12 dog/cat houses, dog/cat food for two months, and straw to families in need. We will give out the items beginning in November, 2017.
If you have a dog house, pet food, or other item you'd like to donate for the Community Outreach Program, please contact us. Thank You for your support!