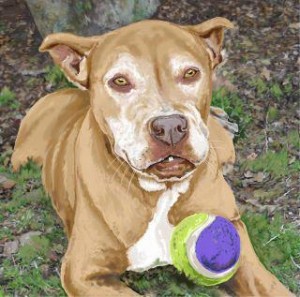 Our Inspiration
Angel: a Forgotten Homeless Dog with an Unbroken Spirit
Homeless, hungry and in poor health, a tired dog wandered up to a homeless shelter in South Carolina on March 13, 2011. Hoping for a gentle hand, food and perhaps even love, she approached the residents of the shelter. They took her in and did their best to help her with the very few resources they had with them. When they realized she needed more than they could provide, they contacted us for help with her medical treatment and future needs.
We picked her up on March 15th and took her to the vet to determine what her medical needs were, to begin any necessary treatments and to start her on the road to recovery.
The first thing that everyone noticed about Angel was her huge smile and constant tail wag! Even with all the suffering she had endured, she was so happy to be petted and cared for at the vet and thrilled when they gave her a treat, which she carried around like a prize. Yet, although Angel appeared happy on the outside, her thin body was ravaged by several health issues including hookworms, whipworms, heartworms, a severe bacterial infection and kidney issues. It was going to be a battle to keep her alive.
Angel underwent medical treatment for 26 days and fought with all the courage and strength her tired body could muster. Unfortunately, the neglect that she had suffered was too much for her to overcome. She went peacefully to sleep on April 10, 2011 and did not wake up.
We were heartbroken when we learned that this beautiful girl would not know what it was like to live with a loving family, but grateful that she knew only love and kindness during the last month of her life. We will always remember sitting under a big, beautiful tree with Angel, giving her massages while she soaked up the sunshine and watched the birds playing; always smiling and wagging her tail.
Angel was such an inspiration to everyone that she met during her journey and those who heard her story. Her courage, love and trust inspired us to start Angel's Hope. Through the efforts of Angel's Hope we are determined to see a time when the loss of innocent companion animal lives as a result of entering shelters, becoming homeless or suffering from abuse and neglect is zero.
It's a big goal, driven by an unbreakable spirit — Angel.