Thank You for a Great First Year!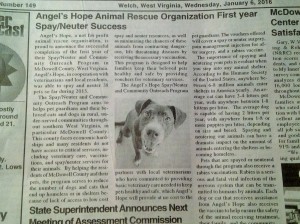 Angel's Hope, a not for profit animal rescue organization, is proud to announce the successful completion of the first year of their Spay/Neuter and Community Outreach Program in McDowell County, West Virginia. Angel's Hope, in cooperation with veterinarians and local residents, was able to spay and neuter 38 pets so far during 2015.
The Spay/Neuter and Community Outreach Program aims to helps pet guardians and their beloved cats and dogs in rural, under-served communities throughout southern West Virginia, in particular McDowell County.  This county faces economic hardships and many residents do not have access to critical services, including veterinary care, vaccinations, and spay/neuter services for their animals.  By helping the residents of McDowell County and their pets, the program serves to reduce the number of dogs and cats that end up homeless or in shelters because of lack of access to low cost spay and neuter resources, as well as minimizing the chances of these animals from contracting dangerous, life threatening diseases by receiving the necessary vaccination.  This program is designed to help families keep their beloved pets healthy and safe by providing vouchers for veterinary services.
The Angel's Hope Spay/Neuter and Community Outreach Program partners with local veterinarians who have committed to providing basic veterinary care needed to keep pets healthy and safe, which Angel's Hope will provide at no cost to the pet guardians. The vouchers offered will cover a spay or neuter surgery, pain management injection for after surgery, and a  rabies vaccine.
The importance of spaying and neutering your pets is evident when you step into any animal shelter.  According to the Humane Society of the United States, anywhere between 6-8 million animals enter shelters in America yearly.  An average cat can have 3-4 litters per year, with anywhere between 1-8 kittens per litter.   The average dog is capable of having 2 litters per year, with anywhere from 1-8 or more puppies per litter, depending on size and breed.  Spaying and neutering our animals can have a dramatic impact on the amount of animals entering the shelters or becoming homeless.
Pets that are spayed or neutered through the program also receive a rabies vaccination. Rabies is a serious and fatal viral infection of the nervous system that can be transmitted to humans by animals. Each dog or cat that receives assistance from Angel's Hope also receives the vaccine to help ensure the safety of the animal receiving treatment, their family, and the community.
Angel's Hope also provides additional resources to encourage the humane treatment of animals by distributing handouts on pet/human safety, children's books on the importance of spaying/neutering, and pet-related supplies.  This effort is about creating more humane and pet-friendly communities as well as helping younger generations develop positive skills to interact with family pets and other animals.
Angel's Hope is a not for profit animal welfare organization. The founders and Board of Directors are all McDowell County natives or residents that have a passion for giving back to a community that instilled their benevolence. The organization relies solely on donations, grants, and efforts of its volunteers. If you would like to donate, receive news, or find out more about our organization please go to www.angelshopeinc.org for more information.