The gift of HOPE is the greatest gift of all!
The gift of HOPE is the greatest gift of all…
LOVE CHANGES EVERYTHING – OUR JOURNEY WITH OUR SUCCESSFUL ADOPTION OF MAMA RIZZO
My adoption story is truly a celebration of courage, trust, loyalty and hope! The recurring and consistent theme lies in hope. Hope is a passion that keeps us going through difficulties. It is the life raft we cling to instead of giving up; what my pet or myself did not know a year ago, was how she would come to give me hope and in turn I would provide her the same. To fully understand the positive impact she has made in my life, I need to recap her journey as well as mine.
Flashback in Mama Rizzo's time to one year ago. She was alone in a shelter in a rural area of our state.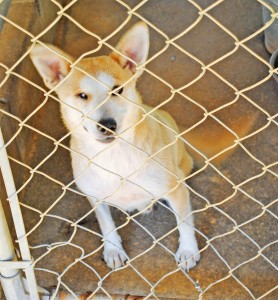 The adoption group was preparing to travel there to pick up two puppies they had committed to retrieve. At the last minute they were advised our pet was the puppies' mother. They were not prepared to bring her back with them, however, they could not in good faith leave her behind. She tested positive for heartworms, she had one eye and a small bullet in her leg. Knowing all this, they lovingly took her in, nursed her to health, provided her with the necessary medical care and began to prepare her for placement.
Flashback in my life one year ago. My 86 year old mother was diagnosed with stage 4 cancer. I had just lost my beloved pet of nine years. I was overwhelmed with work responsibilities. My father's health was in decline. My life was spinning in a dismal spiral. In February of this year, my life changed forever with the passing of my mother. There are no words for the grief.
A few days after my mother's death, my niece casually mentioned a post on facebook referencing a dog being placed up for adoption. (She was aware my husband and I wanted another pet but also knew we had not been focused on actively searching). With my first look at Mama Rizzo I felt an instant smile across my face. There she was – there was hope looking at me. There was purpose.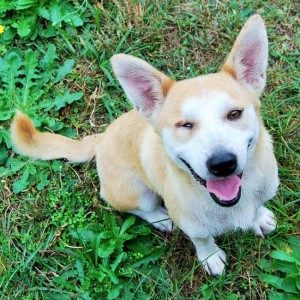 We made an inquiry about her and learned she would be complete with her heartworm treatment in March, she would have eye surgery, be spayed and be ready for placement in April. The adoption group described their concept of an ideal home for Mama Rizzo which would be one that would provide patience, guidance and nurturing. She could be very nervous and fearful when interacting with people, but was responding well to their training.
As we contemplated the decision to officially apply for adoption consideration, I thought about the different dynamics that I believed brought us together. There was courage; the kind of admirable quiet courage of heart, mind and spirit; the kind I believe she possesses that helped see her through her early not so pleasant days. I thought of trust, and how most people have a natural goodness that makes them honest, reliable and true to their word. Regrettably, she had not had good experiences with trust prior to arriving with the adoption group. I thought of loyalty, the faithfulness, never-ending devotion, unrelenting commitment to someone or something. A complete dependability that can be relied on under the most trying circumstances. And then hope. The kind of hope that allows joy to rise out of despair and calm out of trembling. Mama Rizzo and I both needed stability and along with these traits we needed joy and we needed the experience of unconditional love between a pet and their guardian.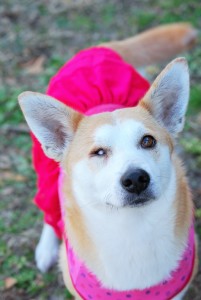 We welcomed her to our home in April. As a side unplanned benefit, I retired from work April 1 and my husband did as well. How has she changed my life? She gives me the opportunity to make sweet memories with her. She gives us laughter when she playfully chases her toys. She gives me purpose for moving forward. She gives me a thrill like no other when I return home from daily visits with my Dad. She is normally at her look out post and she recognizes my car from the window. By the time I am parked and walking in the house, she has made her way to the back door with such excitement. Seeing her dance and wiggle chases my blues away in an instant. We are sharing our lives with her as she is sharing hers with us.
She's keeping my recently retired husband active with daily walks (and for many years I was not successful in persuading him to walk with me!) but she has him hooked! They both look so forward to it! She is quite animated in the mornings when she knows she is moments away from her walk! It's smiles and laughter as they head out the door! He's happy, he's exercising and she is excited beyond measure!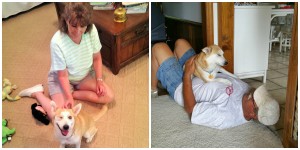 When our day comes to a close and she has finished her dinner, and I lay down for TV time, it is snuggle time! The stillness and calm feeling washes over me and when I look at her laying so quietly, and mull over her past trials and my present grief, I am overcome with calmness and serenity that cannot be explained, except to say she gives me hope.
I believe you can fare well in life if you have someone to love, something to look forward to and something you love to do. While not dismissing my family or friends, I will say she is my someone to love, my something to look forward to and spending time with her is my something I love to do. She and I were brought together in an amazing way with timing being a key factor and while I would want to believe that I "rescued" her, it is in fact the other way around. She has rescued me and given me purpose, inspiration, motivation.
And how exactly did she do it? Just by being her unique self that constantly gives me strength, courage and hope to see me through each day.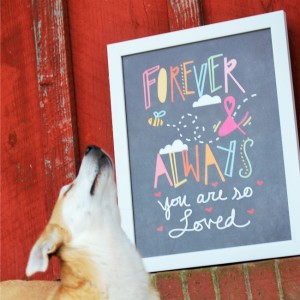 To see more of how beautiful Mama Rizzo's story unfolded, please watch her Thank You video.
________________________________________
Mama Rizzo is HOME FOR THE HOLIDAYS this year and we have her amazing family, you, and each and every person that shared her journey to thank. You gave her a gift that changed her life forever-the gift of HOPE and we are grateful.
Wishing you a wonderful holiday season and New Year filled with HOPE,
April, Sam, Bill, and all of the Angel's Hope family