Thank you for sharing three amazing years!
It seems like just a short time ago that we met a beautiful dog named Angel on a warm sunny day in March. We did not know at the time that this special girl had a plan for us that would transform our lives. Before we met Angel, we were involved in animal rescue through transports, fostering, and other volunteer activities and enjoyed it all. We had entertained the occasional chat about starting an animal rescue organization, but did not know how or when it would come into fruition.Then came Angel!
As we pulled into the parking lot of the homeless shelter where she was found, Angel was drinking from a kettle and eating from a KFC bowl that the two very kind people that found her were providing her water and food in. Angel was all smiles and tail-wags as she greeted us and thrilled to see that we had brought her a goody bag. She was so excited to play with the toys and enjoy the treats that were just for her. She never let it show that her life before that day had been hard, although the condition of her body told us otherwise. Her new friends gushed over this girl and we knew she had touched their lives as she would ours. We will always be grateful to the wonderful people that showed Angel so much kindness for maybe the first time in her life.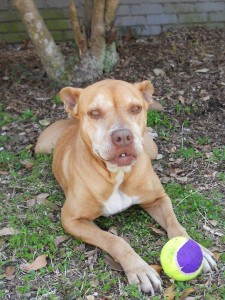 A few days after meeting Angel, we picked her up to take her to the vet and begin treatment for things that are normally expected with homeless dogs- parasites, heartworm disease, fleas/ticks, etc.  Angel was also malnourished, so of course she would need good food to help her body heal and begin what we thought was her road to recovery. In addition to the expected parasites and heartworms, Angel was also suffering from a bacterial infection and kidney disease that would not surface until a few days later. Although Angel gave it her all to get well, the years of neglect and abuse were too much and she went peacefully to sleep after 26 days of love and medical care and did not wake up. Though we were heartbroken that this beautiful girl would not overcome the abuse she had suffered, we knew her spirit would live on and change many, many lives.
The short time we spent with Angel was filled with tail-wags and smiles and enjoyed sitting outside under a tree watching the birds. She was a gentle spirit and taught us so many lessons in the time we shared. She also gave us the determination to create an organization that would help give Hope to not only other dogs just like her, but to the people that share this journey. Thank you Angel!
Since meeting Angel and starting Angel's Hope our lives have changed in ways we could never imagine. We have met so many wonderful friends from all around the world that share our joys and our trials. You indulge our silly side when the foster pups take over our Facebook page with a chompers contest and cry with us when a foster pup is suffering and in need of being surrounded by love. You are there to support us through monetary contributions and by sending food, toys, and other items that keep the foster pups happy and healthy. You send words of encouragement when we need to find our Hope again and smile with us with each life that is saved. When it is time for the foster pups to start the next part of their journey, our amazing rescue partners find the most loving families that welcome our foster pups into their homes and hearts and give them the lives they have dreamed of. These amazing three years would not be possible without each of you!
Since 2011, through your support and generosity one amazing dog named Angel was given 26 days to enjoy being loved and cared for in ways she never had before. She was able to rest and enjoy being snuggled and cuddled instead of living on the streets, continuously hunting for food and shelter. Her smile and tail-wags showed us the gratitude this sweet girl had for the Angel's Hope community. She left this world knowing that she was so loved and that she had inspired so many people.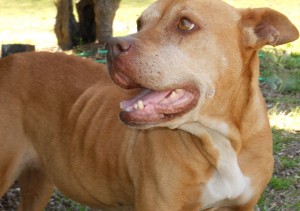 Thanks to you, 34 awesome pups have gone from an unknown fate in shelters and lives on the streets to being cherished family members, loved and safe each and every day. Of course the transitions have not always been easy, but you have been here with us each step of the way. You were there when Pixie's temperature spiked to 106 and she was hospitalized with aspiration pneumonia and when sweet Sophie had to have ¾ of her small intestine removed and the outcome was uncertain for this little three pound girl. You cheered the little gentlemen on as they battled demodectic mange that made their bodies ache and our hearts weep for them. You shared Mondays with Merlin as he battled demodectic mange and entropion of both eyes with the heart of a true champion. You helped Max get his waggle back and gave him and his brother Simon the love and acceptance that helped them grow and shine. You have shared the joy and laughter of each and every foster pup that has shared our home and you have changed their lives, as well as ours.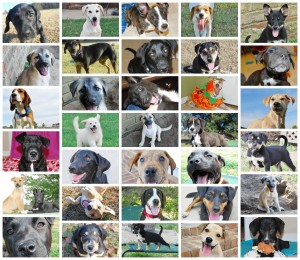 Today, the newest Angel's Hope foster pups Lenny and Hammy are enjoying playing in the sunshine and preparing for an amazing journey because we knew the Angel's Hope community could be counted on to help them along the way. All of this is possible because of you!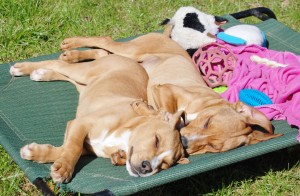 We have big dreams for Angel's Hope for the future including developing a spay/neuter program and community outreach program. We hope that you will share each and every step with us, just as you have for the past three years. Each person that is a part of the Angel's Hope community makes a difference and together we can create a Hope filled future for the pets that need us.
We cannot wait to see what the next three years bring!  Happy Three Years Angel's Hope!