You Are Going to Want to Give Up, Don't!
You are going to want to give up, Don't! That was the lesson that sweet Sophie brought to the Angel's Hope community in the spring. Sophie, along with her three siblings, was rescued from a shelter in SC and came to the Angel's Hope foster program to prepare for wonderful new lives. They were playful pups, full of fun and mischief.
So it happens sometimes with puppies, they developed a stomach virus that quickly made its way through the entire litter. While Sophie's three siblings recovered after a quick visit to the vet and in less than 24 hours, she was not recovering and after two more trips to the vet it was determined that this little sweet, 3 pound pup had intussusception of the small intestine.
Intussuscetpion of the intestine occurs when one segment of the intestine (the intussusceptum) telescopes into the lumen of an adjacent segment of intestine (the intussuscipiens). Supportive therapy was given to Sophie for two days while she stayed at the vet to attempt to help the issue correct on its own. However, this did not occur and sweet Sophie continued to deteriorate.
We were terrified for our sweet Sophie. She was just a pup, a little over two months old and because of her illness just three pounds at the time of her surgery. We didn't know if she would survive the surgery or how she would do afterwards, but we knew she didn't have a chance without it.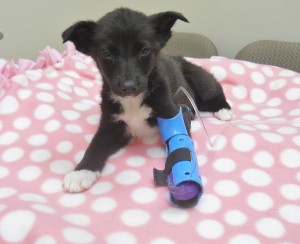 The day of her surgery we went to see her before she underwent the procedure and the sparkle had left her. She was despondent, tired, and ready to give up. We took her a stuffed caterpillar and wrapped her in a pink polka dot blanket and the encompassing love of the Angel's Hope community. We held her and whispered to her all of the things we feared she would never get to hear, if we did not tell her then. "Sophie, we are so honored that we were chosen to be your rescue and foster home. Sophie, there are so many people that love you and are wrapping you up in love. Sophie, you have such an amazing family waiting for you! Do not give up!" We kissed her little head and off to surgery she went.
During the surgery, ¾ of her small intestine had to be removed as it was too damaged to reconstruct. She came through it like a champ and day after day showed us exactly what it means to keep going, even when we feel like giving up.
A few days after her surgery we took a sign for her to let her know that she indeed had "Rocked it like a boss!" She was back to herself, full of puppy kisses and tell wags for everyone she came in contact with. This is what one of the vet techs had to say: "Sophie came to us one sick little pup. We were all so scared for her because she needed surgery to save her life, but she was so tiny and so sick, so much could go wrong. But we couldn't stop, couldn't give up on this little life. Even being sick she would still snuggle with you, wanted to give and receive love, so we had to try. She flew through surgery with flying colors! Especially with the amount of diseased intestines removed! And the next day, that sparkle was in her eyes and tail was wagging! Everyone at the hospital loved little Sophie with her pink blanket and caterpillar toy. She was one amazing little pup and I will always remember her!"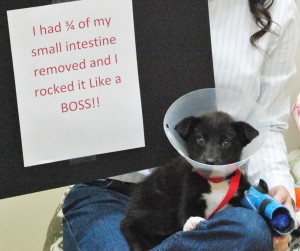 Tears come to our eyes as we think about how strong she is and how much determination she had to live and to meet her family. She gave it all she had and today she lives with and is adored by such a special family. This is what they have to say about sweet Sophie today: "Sophie is a perfect fit for our family because she is fun-loving, silly and loves to cuddle. We have never met another dog that loves to kiss as much as she does. Whenever we come home you can see her ears and little eyes peaking over the window sill, then she runs to the door so excited to see us, she really knows how to make you feel special. She is a great big sister to our daughter Keanna, always there to protect her if she thinks she is in trouble. They love to play and snuggle together. We are so lucky to have her as a part of our family and can't imagine our lives without her." Sophie had many special people waiting for her on the other side of surgery and she was not going to let anything stop her from starting her new life!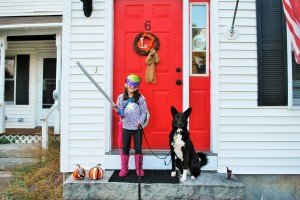 There are many days in animal rescue that we feel like it is time to give up. We feel we could have saved one more. We go over and over scenarios and wished we made better choices. We vow that we will do more and we will try, but there are days that we know even when we give 100%, we will fall short for those that are depending on us. Those are the days that we think back to a little black and white puppy and her determination to get well.
Sophie keeps us going. She inspires us to put one foot in front of the other and to Never Give Up. Thank you Sophie for the beautiful lesson!
Thank you to all that shared her journey, the veterinary staff and techs that cared for her, all that donated for her care, to Mary's Dogs for finding her an awesome family, and to her wonderful family that loves her so much!