Two Years of Giving Hope!
On April 10th, 2012 Angel's Hope shared a day of celebrating Angel and the hope that she brought to our lives and to many all around the world. It was a day to share memories, give thanks to the amazing people that she has brought together over the last two years, and to honor her amazing spirit. Thank you Angel!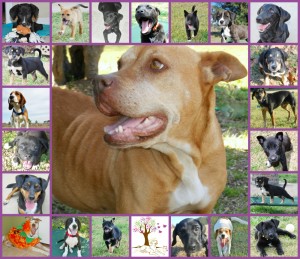 We would like to thank the wonderful people that give us hope through their generosity, friendships, and that open their hearts and homes to our foster pups.
Thank you to the Mary's Dogs team for finding the most amazing families and homes for our foster pups! Mary's team is such a great community and we are very happy to be a part of it and to work together to save the lives of homeless pets in need. Thank you for saving the Angel's Hope foster pups and giving them wonderful lives!
Thank you to Dog4U, Inc. and Buddy Dog Humane Society for giving Cash and Harley their second chance and for finding them a soft place to rest their heads. These two sweet boys will now enjoy a loving home and create wonderful memories with their families.
Thank you to the amazing and loving families that adopt our foster pups and our supporters, friends, and volunteers.
We have met, held when they were healthy or sick, played with, snuggled, waited anxiously to hear that a family was waiting for them, and eventually cried tears of joy and sadness for every single one of the 22 amazing pups that have been a part of our foster program. Thank you to the families that see their pictures and follow their journeys and decide that their place is with your family.
We know that when our foster pups leave our home they are starting a journey already filled with love and open arms waiting on the other side.  This makes the letting go a little easier. Thank you for giving them a home and so much love!
Thank you to our supporters, friends, and volunteers that donate, participate in our fundraisers, share, send words of encouragement, listen to us when we are exhausted and unsure of what is next, and give us Hope when we need it. We could never express our gratitude for your generosity and for caring about our foster pups and Angel's Hope. Thank you!