High-paws to Cash and Caden!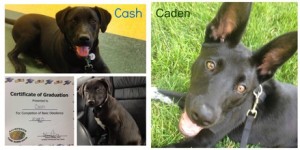 What is one of the best parts of rescue work? The amazing updates we receive on our foster pups! Two very special boys have been going to puppy class and learning so many new things. Their hard work is paying off and both are now graduates of puppy obedience class. High-paws to Caden and Cash!
He can sit, stay, and DANCE! That's right DANCE! One of the sweetest and most gentle pups we've had the honor of fostering is growing up to be a very smart and handsome young man. Congratulations Caden on all of your accomplishments and thank you to your wonderful family for helping you to be such a great pup!
From his family: "Caden (formerly Waylon) is doing GREAT! He is now fully potty trained! He also passed puppy kindergarten where he learned to sit, stay, down, come, and dance on command! In Basic obedience he learned to sit for petting, heel, and walk nicely on a leash."
When we met Cash at just three months old we knew he was going to make a family so happy. He had facial expressions that could bring a smile to anyone and gave the sweetest puppy kisses.
Mr. Cash passed his AKC Good Citizen Test and obedience class at just 9 months old! Congratulations Cash! You indeed are a very smart pup and your family is awesome for helping you to be the very best pup you can be!
From his family: "From the first time we took little Cash home we knew he was smart. Now he is quite the large boy and a graduate! He even passed the AKC Good Citizen Test as well! He's almost 9 months old and gets smarter every day."
Keep up the great work Caden and Cash! You boys are an inspiration to pups all around the world!