Angel is featured in Life + Dog
Our inspiration for Angel's Hope is Angel, a homeless dog that changed our lives forever and inspired us to never give up no matter how difficult the situation may be.
Angel had the most amazing spirit and always had a tail wag and a smile for anyone that she met. Even on her worst days her tail would wag as fast as it could possibly wag.
Angel's beautiful spirit was captured in a painting done by Missy Johnson- Dog for the PAWS and is featured in the current edition of Life + Dog magazine. Dogs for the PAWS, is the national pet/ art awareness site that is inspiring pet lovers to adopt, rescue, and volunteer for pets in need. It is an art and education project that started with 80 rescue dogs from all around the country. Missy paints a stunning portrait of each and includes their touching stories of rescue and rehabilitation.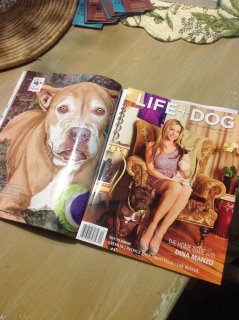 We are so thankful that Missy included beautiful Angel in her Paws Pack and created an amazing painting that captured Angel's spirit and the joy that she experienced the day we took her what may have been her first tennis ball. She was thrilled to play and run in the sunshine with us!
Thank you Missy- Dogs for the PAWS for being a part of Angel's journey!
To learn more about Dogs for the PAWS please visit: Dogs for the PAWS